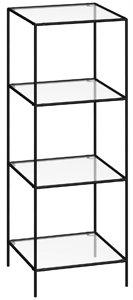 Abstracta is primarily a modular display system that allows the buyer to mix and match stock units to create unique designs in the available space. Abstracta products come in a 13mm (1/2-inch) diameter. The 13mm size is a light-weight choice for exhibition displays that need to be taken apart and re-assembled. They are not meant to be taken apart once assembled. It can be done, but doing so voids the warranty.
Products are comprised of steel cube space frames, straight steel tubes and special arched tubes, connectors and accessories. All Abstracta products are made in the United States.
Note: Parts and units have a 7-10 business day lead time once order is placed.
"I bought a abstract system 2 years ago for using at art fairs and I love it!! It is great for traveling, and for quick set up and tear down. It ships easily and I can also travel with it in my suitcase. I was drawn to this display and not only for the ease of traveling but also for the modern and minimal look. I've used it for countless shows and it has stood up through everything. I plan on adding more to my existing display." Nikki Naton