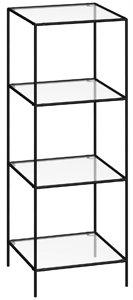 Abstracta is primarily a modular display and furniture system that allows the buyer to mix and match stock units as well as create unique designs for a multitude of uses. Abstracta is comprised of lightweight 13mm (1/2-inch) diameter steel tubing and two different versions of connectors. The original connector version is diecast zinc metal and the newest connector version is composite polymer. Both types of connectors fit all the tubing and accessories that we offer.
The original Abstracta® metal connectors are recommended for semi-permanent to permanent structures and configurations which are not often changed or reconfigured. The metal connectors are stocked in Matte Black, Gloss White, Gloss Silver and Chrome Plate. Custom colors at additional cost.
The new Cubitz® polymer connectors are recommended for displays/shelving units that are often disassembled and reassembled, such as for trade shows and art fairs. The Cubitz connectors are only available in Matte Black but look good with the stock Abstracta tube and accessory colors. See examples HERE. The Cubitz connectors can be spray-painted with plastic friendly paint, such as Krylon® Fusion, if you wish to match stock tube colors.
More to know: Our stock and custom designs are shipped unassembled with instructions. The Abstracta system is comprised of straight steel tubes, select special arched tubes, connectors and accessories. See our Gallery for ideas. We are happy to help you design a configuration that works best for you. Parts and units have a 7-10 business day lead time once order is placed.
"I bought an abstract system 2 years ago for using at art fairs and I love it!! It is great for traveling, and for quick set up and tear down. It ships easily and I can also travel with it in my suitcase. I was drawn to this display and not only for the ease of traveling but also for the modern and minimal look. I've used it for countless shows and it has stood up through everything. I plan on adding more to my existing display." Nikki Naton