CubitzKitz is Abstracta for the Home as well as The Reinvention of a Design Classic
The original Abstracta system is made from steel tubing and zinc connectors. This gives it the weight and structure necessary for commercial applications. However, the steel and zinc friction fit takes significant force to hammer flush and to disconnect. Once people assemble Abstracta, they tend to keep it together for awhile!
CubitzKitz are for DIYers, families, and anyone who loves to regularly rearrange their home. It utilizes 15″ anodized aluminum tubing instead of steel, and an entirely new type of connector that is glass-filled nylon instead of zinc. CubitzKitz are 75% lighter than the original Abstracta, and much easier to assemble and disassemble. This also makes it more accessible to children and people with limited physical strength. It is still extremely strong, but it's a lot more fun to put together.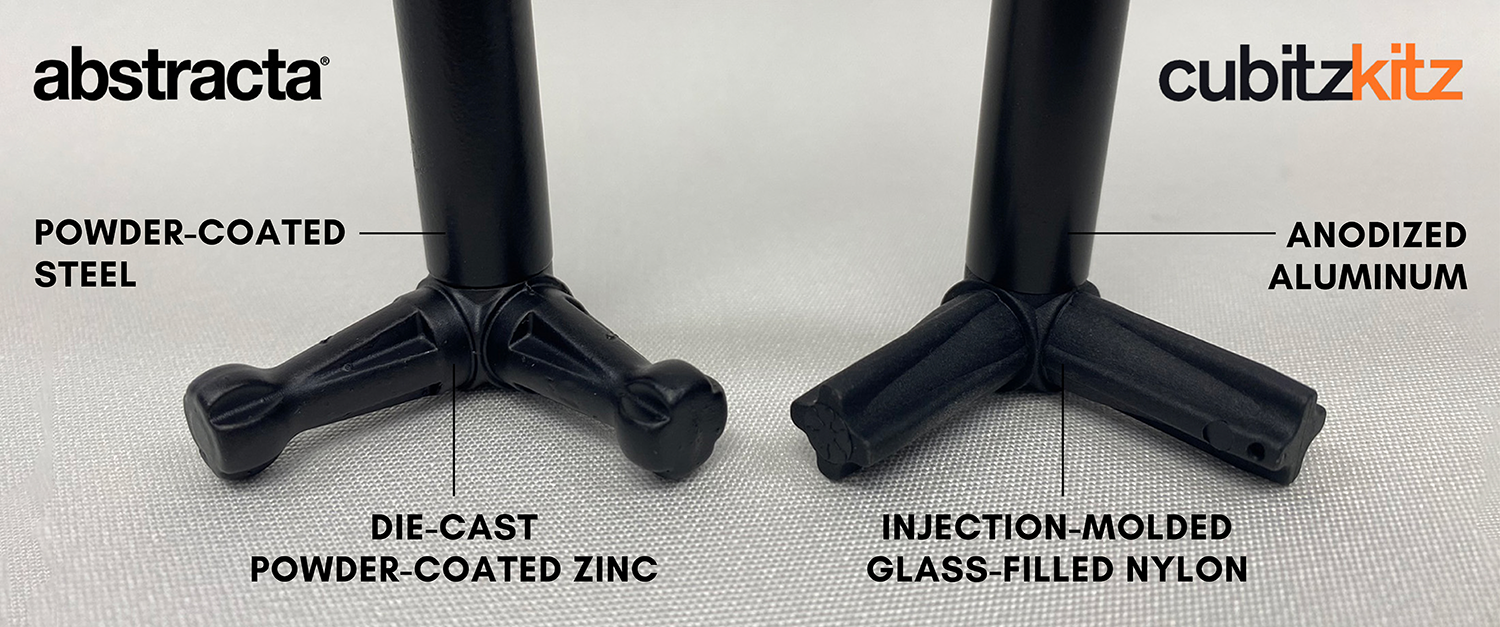 CubitzKitz allows anybody to easily build customized, sophisticated structures within the timeless 90° cubic format. The black satin anodized aluminum tubes are an elegant fit for the home environment. 
The instructions include recommended configurations, but we look forward to seeing what you build!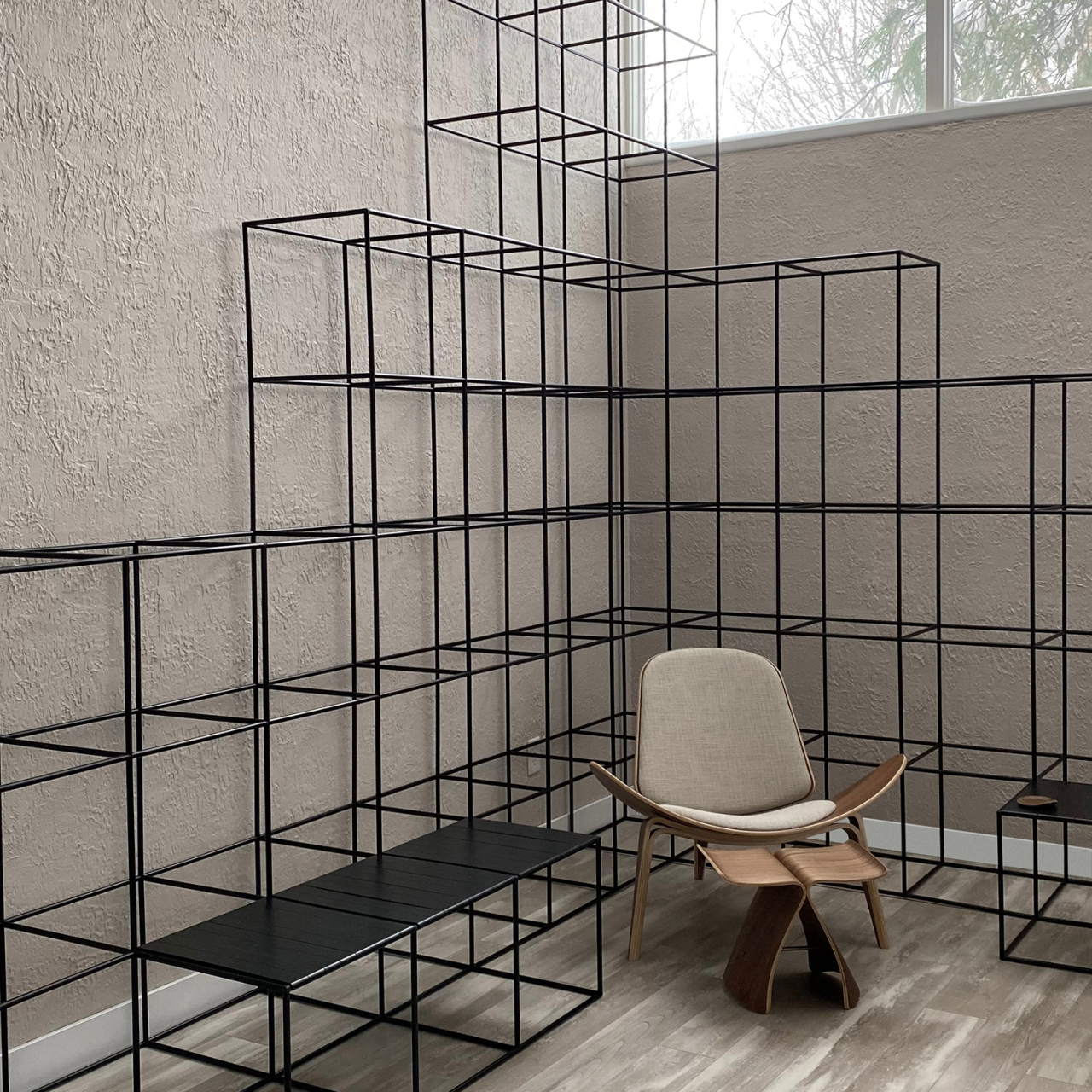 CubitzKitz include everything you and your family need to plan, prototype, assemble, and disassemble your unique designs. CubitzKitz are made up of two parts: a Design Kit and a Build Kit. The Design Kit contains half-scale straws and connectors, isometric graph paper for exploring concepts, and an instruction booklet. The Build Kit includes 15″ black satin anodized aluminum tubes, assorted nylon connectors, acrylic shelving (safer than glass and requires no shelf clips), lightweight hammer, and disconnect tool.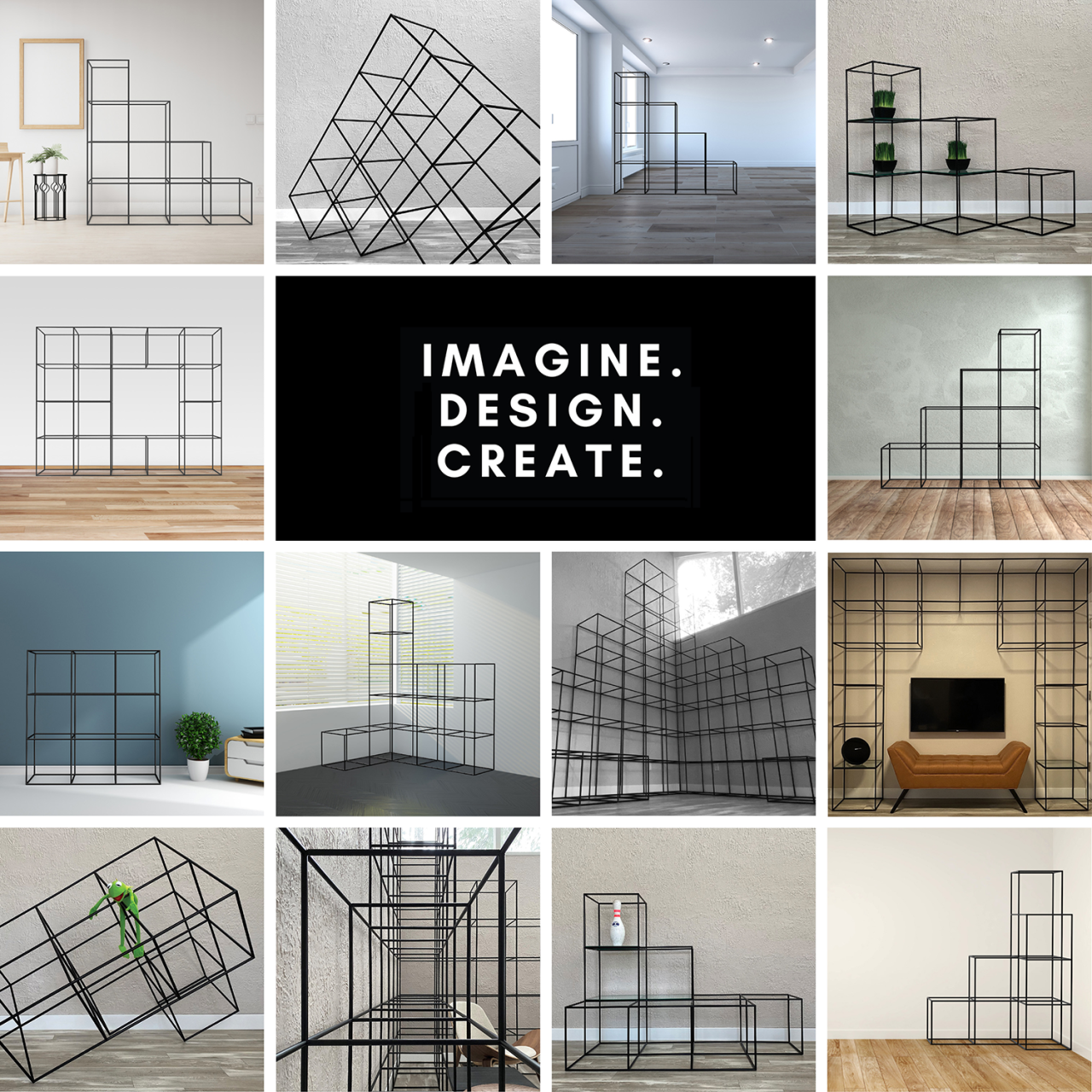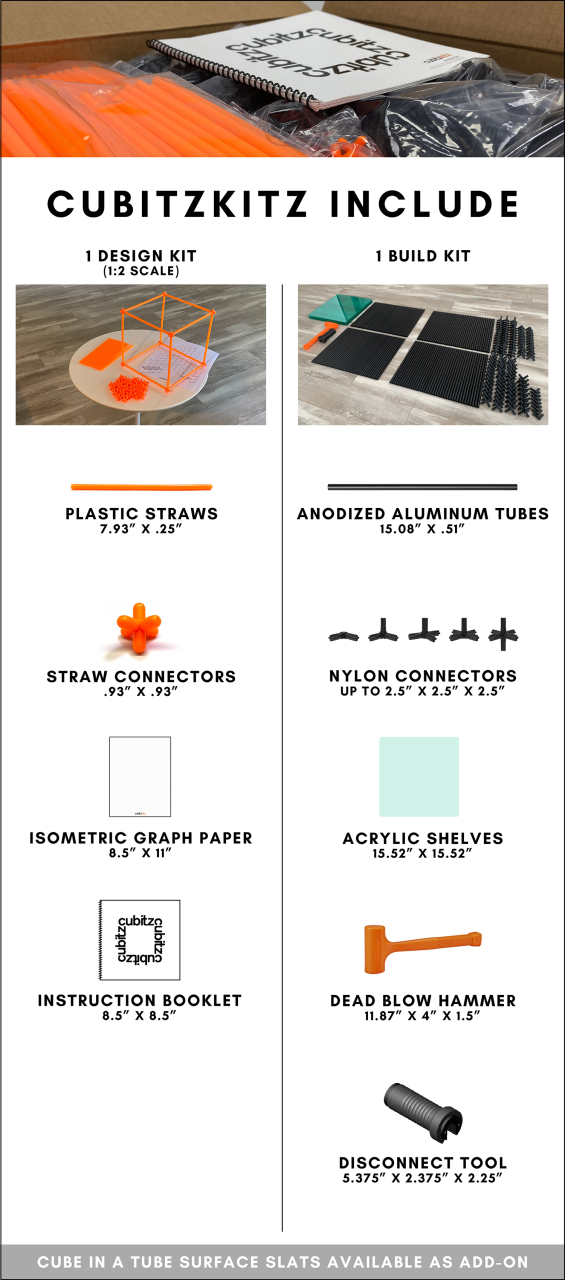 Cube in a Tube Available for the First Time Since the 1970s
We also applied the new Cubitz connection system to Cube in a Tube!
In 1969, Poul Cadovius's Cube in a Tube was accepted into the permanent collection of the Museum of Modern Art in New York City. The clever product, comprised of 8 zinc connectors and 12 steel tubes, is generally regarded as Abstracta's simplest form.  His version included shelf clips, but customers had to provide their own surface to use the cube as a table.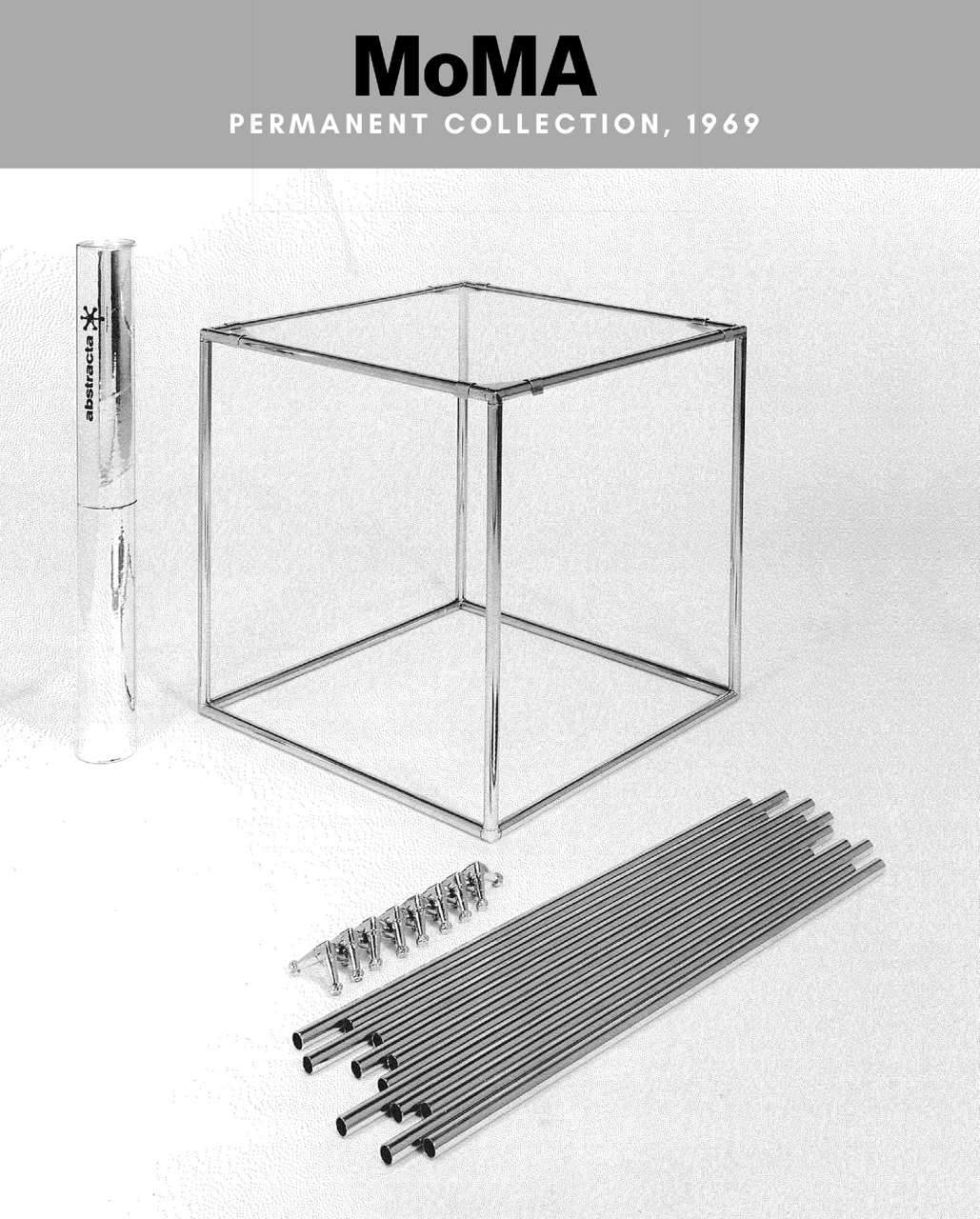 We are excited to introduce an updated version of Cube in a Tube! It has the same 16″ x 16″ x 16″ proportions as the original, but the new version is made from anodized aluminum instead of chrome-plated steel, utilizes the easier-to-use Cubitz connectors, and has the tabletop right in the box. This is the first time Cube in a Tube has been for sale since the 1970s! 
The black satin finish looks great in the home, but the lightweight aluminum and easier assembly/disassembly makes Cube in a Tube the ultimate RV, Van Life, or camping accessory.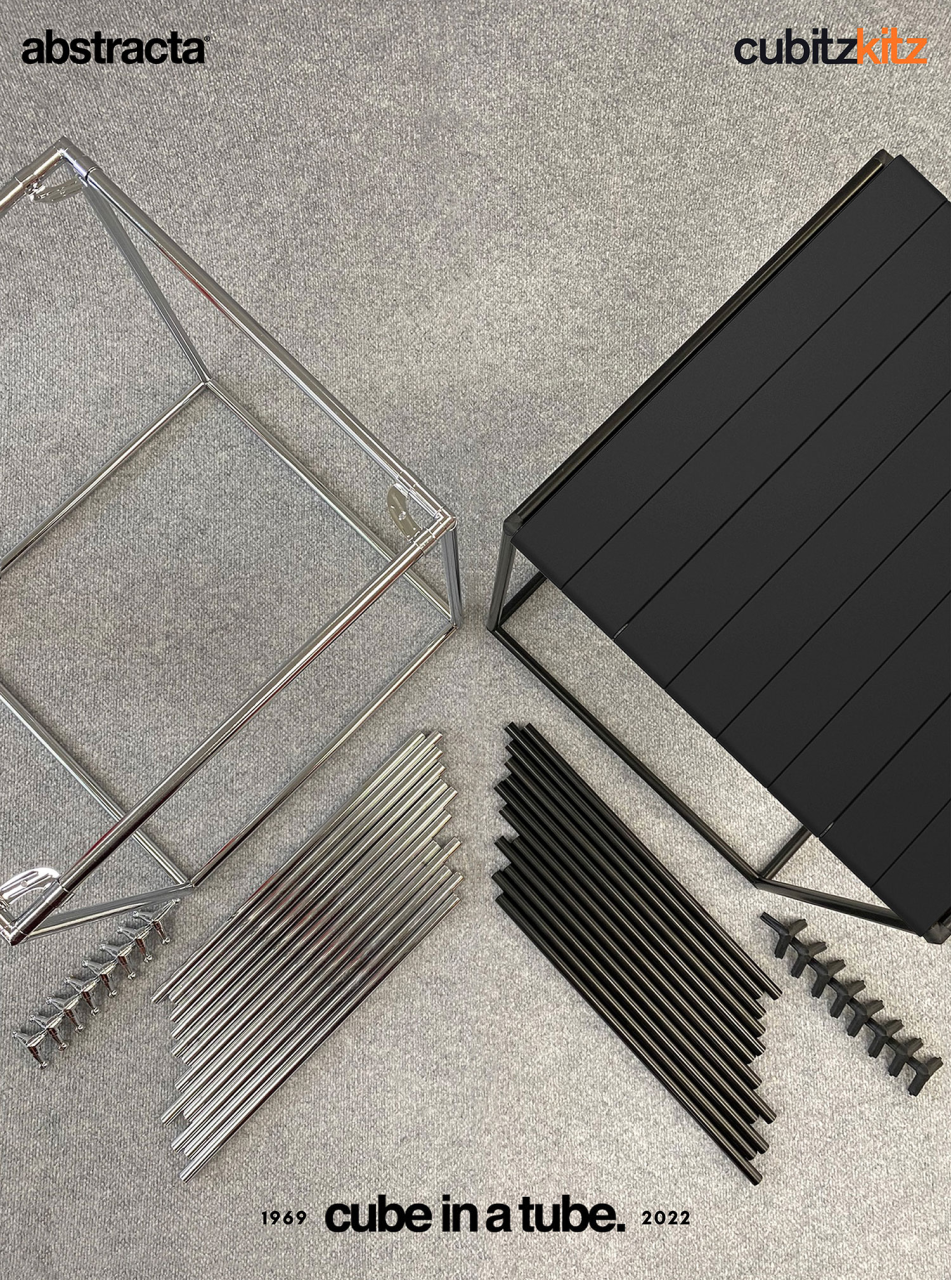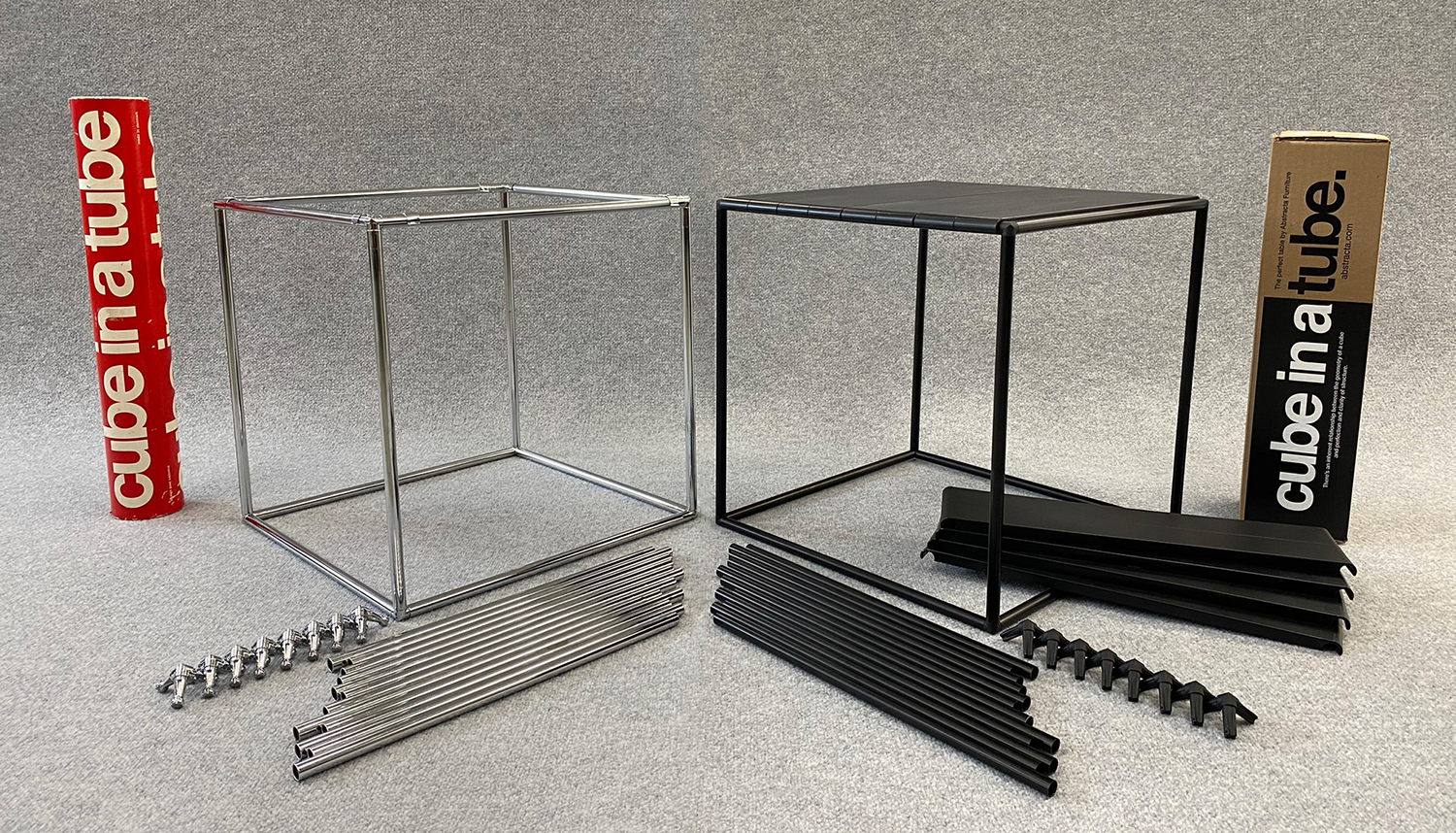 CubitzKitz are offered in three sizes. The Starter Kit has 49 tubes, the Junior Architect Kit has 76 tubes, and the Architect Kit has 152 tubes. Bigger plans? Just add more Kitz!